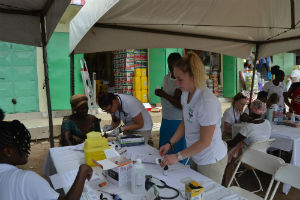 October 18, 2020 - 07:00
Accra, Ghana
West End University College, Ghana has entered into a collaborative linkage programme with Fitchburg State University MA, U. S. A . A Memorandum of Understanding (MOU) has been signed between the two Institutions. A significant aspect of the MOU is the exchange of students from the two Universities in the Department of Nursing. In May, 2018, 14 Fitchburg State University Nursing Students and two Faculty members will undertake a six(6) weeks study tour in Ghana. The purpose is to enable the students have a deep knowledge in Community Health System in Africa particularly Ghana.
In 2019, 10 students and two faculty members of West End University College will also visit Fitchburg State University for two(2) weeks. Students from West End University College will also engage in innovative ways and developments in area of technological advancement in health system in the United States.
This was after a successful one(1) week visit to West End University College by a team of two faculty members from Fitchburg State University from 15th January, to 22nd January, 2018.
EVENT INFO :
Start Date:

October 18, 2020

Start Time:

07:00

End Date:

November 18, 2020

End Time:

10:00

Number of Participants:

200

Location:

Accra, Ghana

Website:

https://weuc.edu.gh/