WHY ATTEND WEST END UNIVERSITY COLLEGE?
Affordable tuition fees, Top up undergraduate programmes, Flexible study plan that meets your individual needs, Small class size for effective teaching and learning, Open door policy to ensure easy interaction with lecturers, Develop strong network with peers, Courses taught by a highly experienced and friendly faculty, Application of a state-of-the-art technology in lectures delivery, Professional and friendly student services, Programmes are tailored towards meeting job market demands, Entrepreneurship-centered programmes to facilitate job creation, Serene environment conducive for effective academic work
West End University College
West End University College
West End University College
FOLLOW US OR JOIN OUR EVENTS
4TH CONGREGATION AND 8TH MATRICULATION – 2018
It is announced for the information of 2017/2018 Academic Year Graduands of West End University College and the General Public that the 4th Congregation for the award of Degrees to persons who completed their programmes of study will be held as follows:
Date: Saturday, 24thNovember, 2018
Time: 08:00 am
Venue: University College Auditorium
Payment of Graduation fee
All Graduands are requested to pay an amount of Three Hundred and fifty Ghana Cedis (GH¢350.00) to cover the hiring of Gowns and Graduation Souvenirs into Account Stated below;
WEST END UNIVERSITY COLLEGE IN COLLABORATIVE LINKAGE WITH FITCHBURG STATE UNIVERSITY MA, USA
West End University College, Ghana has entered into a collaborative linkage programme with Fitchburg State University MA, U. S. A . A Memorandum of Understanding (MOU) has been signed between the two Institutions. A significant aspect of the MOU is the exchange of students from the two Universities in the Department of Nursing. In May, 2018, 14 Fitchburg State University Nursing Students and two Faculty members will undertake a six(6) weeks study tour in Ghana. The purpose is to enable the students have a deep knowledge in Community Health System in Africa particularly Ghana.
In 2019, 10 students and two faculty members of West End University College will also visit Fitchburg State University for two(2) weeks. Students from West End University College will also engage in innovative ways and developments in area of technological advancement in health system in the United States.
This was after a successful one(1) week visit to West End University College by a team of two faculty members from Fitchburg State University from 15th January, to 22nd January, 2018.
Registrar
TAKE THE FIRST STEP TO KNOWLEDGE WITH US
Our designed and classified  courses are suitable to everyone, ensuring to maximize student's capacity. You will find out many interesting things when you enroll. Let's discover right now.
International Conference on Education, Development and Innovation at the Accra International conference center.
Ms. Doreen Mary Antwi Welbeck and Dr. Faustina Amoako-kwakye attended an international conference on Education, Development and Innovation at the Accra International conference center. Theme for the conference was " Transforming Education: Government, Universities and Communities. Doreen presented a paper on her project work that was supervised by Dr. Kwakye. The topic for the presentation was " Hazards experienced by traders who use hawking as their marketing strategy at kasoa and its environs".
B.Sc Nursing (NMC Licensing Examination in August, 2016)
WEST END UNIVERSITY COLLEGE affiliated to University of Cape Coast and accredited by the National Accreditation Board and the Ghana Nurses and Midwifery Council, (NMC), obtained 100% score for her first batch of B.sc Nursing Students who took the NMC Licensing Examination in August, 2016.
This feat has been achieved as a result of the hard working staff under founding HOD of Prof. Janet Gross assisted by Mrs. Hannah Acquah the current Rector, Ghana College of Nurses and Midwives and the current leadership dispensation.
West End University College's B.Sc. Nursing is brazing the trail and we wish to remain amongst the best in Ghana.
WEUC / FITCHBURG STATE UNIVERSITY HEALTH AWARENESS CAMPAIGN AT GALILEA MARKET, NGLESHIE AMANFRO, ACCRA-GHANA ON 4TH JUNE, 2018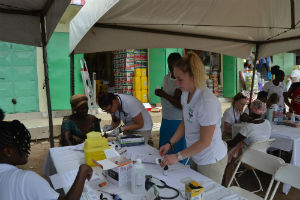 2018/2019 ADMISSION IN PROGRESS
B.Sc. Nursing, B.Sc. Nursing (2 years top-up programme for RN holders or Nursing diploma Holders), 
BBA. with options in Human Resource Management, Accounting, Corporate Administration, Marketing, Banking & Finance
B.Sc. Computer Science, B.Sc. Information & Communication Technology, B.Sc. Computational Finance
B.Sc. Procurement & Supply Chain Management, B.Sc. Entrepreneurship, B.Sc. Corporate Administration  
B.Ed. Accounting, B.Ed. Early Childhood Education, B.Ed. Educational Management, B.Ed. Basic Education
SUBSCRIBE TO OUR NEWSLETTER